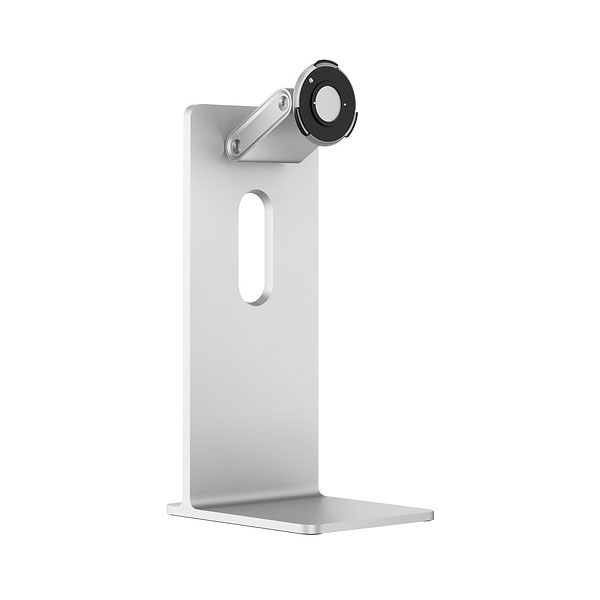 Description:
Every aspect of Pro Stand was designed with pros in mind. Height, tilt, rotation—it's completely adjustable, allowing your Apple Pro Display XDR to fit seamlessly into any work environment.


Height adjustment and tilt

With precision tilting and 120 mm of total height adjustment, Pro Stand helps Pro Display XDR adapt to any viewing condition. When you adjust the height, the angle of the display stays true. Thanks to a highly sophisticated mechanism in the arm, the display feels weightless, moves effortlessly, and stays exactly where you want it.


Rotation

Pro Stand gives you the ability to easily transition between landscape and portrait whenever you want. Change the screen's orientation by simply unlocking the slider and turning the display counterclockwise. This flexibility allows the display to quickly adapt to a pro's changing content. 


Modularity

The magnetic connector on Pro Stand attaches to a polar-opposite magnet on the back of Pro Display XDR. These magnets guide the connection while latches automatically engage to securely lock the stand to the display. Detaching the display is as easy as unlocking the slider.

Tech Specs
Stand range of motion
Height adjustment: the system allows for a total height adjustment of 120 mm (60 mm in each direction from the midpoint)
Orientation: landscape or portrait
Tilt: –5° to +25°
Stand size and weight
Width: 7.1 inches (18.0 cm)
Height (arm 0º, tilt 0º): 17.0 inches (43.3 cm)
Height (arm 45º, tilt 25º): 19.6 inches (49.7 cm)
Depth: 9.3 inches (23.6 cm)
Weight: 9.5 pounds (4.3 kg)
Compatibility
Pro Display XDR
Custom configuration, please allow 2-4 weeks for processing.